A Research Snapshot of the work our team is conducting is summarized in the following publication: http://search.researchimpact.ca/_app/impact/files/tables/files.path.332.pdf
"It is a scandal!: Comparing the causes and consequences of nursing home media scandals in five countries" by Liz Lloyd, Albert Banerjee, Charlene Harrington, Frode F. Jacobsen and Marta Szebehely is now published on Emerald's website.
Listen to the video abstract by Albert Banerjee below:
Author Meets Reader
With Susan Braedley
Thursday, October 24, 2013
5:30pm - 7:00pm
Irene's Pub, 885 Bank St., Ottawa ON
The Second Annual Robarts Lecture in Canadian Studies and Collective Book Launch
Working for Care: Caring for Work
Watch the full presentation.
Thursday, October 3, 2013
4:00pm - 6:00pm
Senate Chamber, 9th floor, North Ross Building
With:
Pat Armstrong, York University
Troubling Care book now available!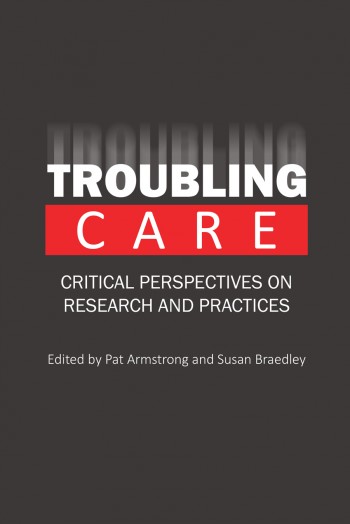 Troubling Care: Critical Perspectives on Research and Practices, authored by seven students and seven faculty members involved in the study, is now published and available for purchase.
For preview of the book and to purchase a hard copy, visit here.
Changing the Conversation:
Re-imagining Long-term Residential Care
Monday, May 27th, 2013
6:00 – 8:00pm
Courtyard Marriott
475 Yonge Street
With:
Dr. Liz Lloyd, University of Bristol
Dr. Monique Lanoix, Appalachian State University
Dr. Sally Chivers, Trent University